Since 2006, MAC Insular has been the official waste processor on Mallorca, processing materials from construction and demolition, as well as bulky waste and tyres, to the highest quality standards. Through the optimal utilization of waste materials, MAC Insular strives to achieve maximum environmental protection, thus contributing to a more sustainable and appealing island for residents and visitors. The aim is to process as much as possible 100% of the waste and offer the recycled material for sale for new projects in a resource-efficient way.
In 2016, MAC Insular ordered the HAAS TYRON 2500 pre-shredder (the largest version of the HAAS Recycling-Systems shredder) as well as the proven HAAS TYRON 1500 (the smallest version of the all-rounder). The company thus laid the foundation for versatile material processing. Now another HAAS TYRON has been added.
Gaspar Fullana Martí, Managing Director of TGMM and HAAS Sales Partner for Spain, tells us:
"MAC Insular is one of our most important and long-standing customers. I am proud to be able to contribute to environmental protection on Mallorca with such reliable business partners on my home island. With the two TYRON pre-shredders, the company was already well-equipped and could shred different materials at the same time. In May of this year, we have now commissioned an additional new HAAS TYRON 2500."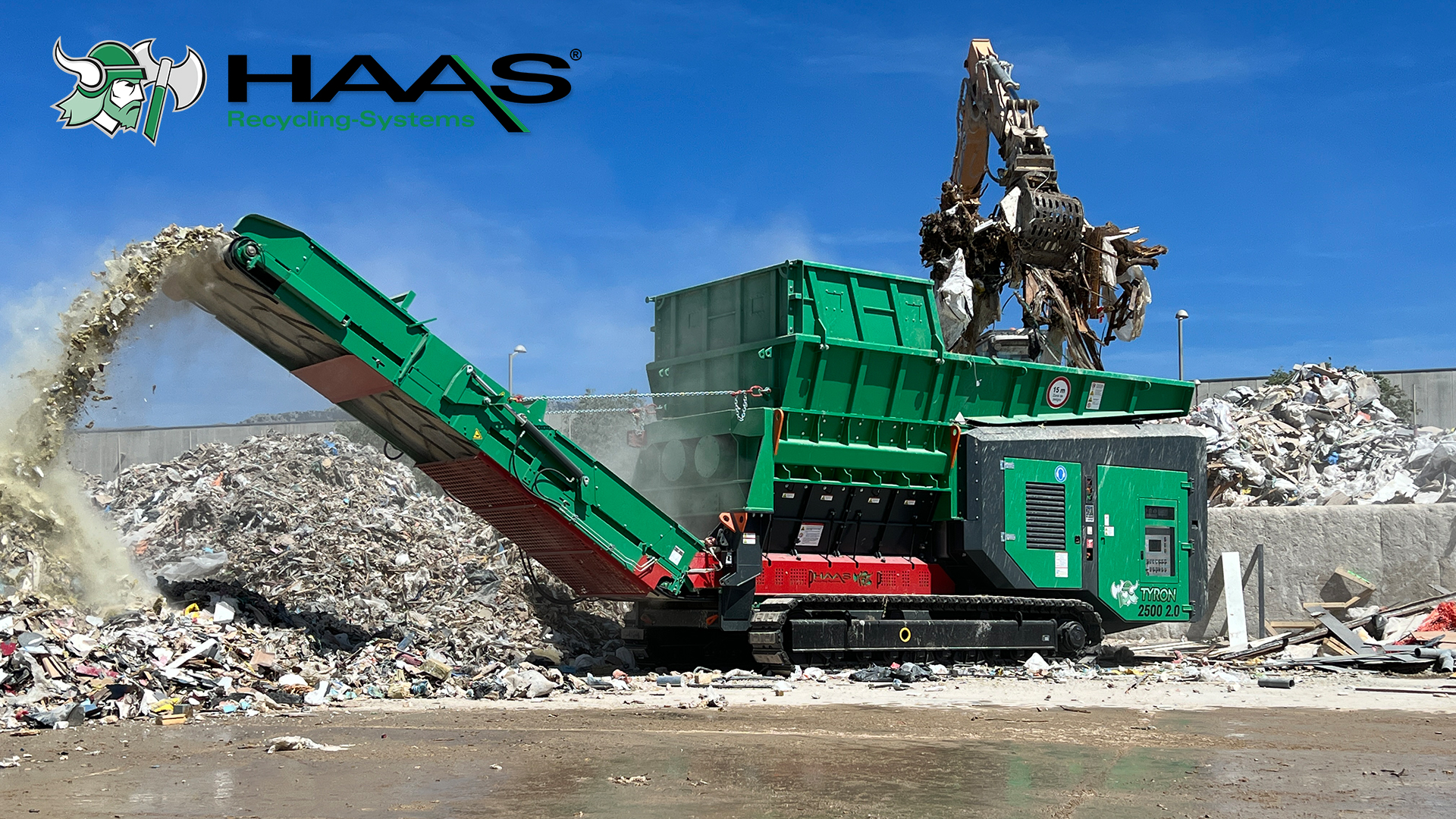 photo: HAAS TYRON 2500 2.0 pre-shredder 2023
The (2) HAAS TYRON pre-shredders reduce C&D (Construction and Demolition Waste) to less than 40 cm. Magnetic metals (e.g., iron, steel) are already ejected from the material discharge using the neodymium overband magnet. The final processed C&D material is used to produce recycled grain for ready-mixed concrete and sand – important, for example, in road construction and civil engineering.
Social Commitment and Resource-Saving Reuse
The collected bulky waste is sorted and checked for reusability. In a repair workshop, furniture and household appliances that are in a usable condition are repaired as part of a social reintegration project and then offered for sale at low cost.
"We consider it our duty to help people who are at risk of social and occupational exclusion to integrate. Almost 500 people have already achieved professional reintegration through the cooperation with Fundació Deixalles and MAC Insular. Of these, about 75% belong to particularly vulnerable groups of social exclusion. These employees are responsible for selecting recyclable materials that go to reprocessing plants for the reuse of furniture and electrical appliances. The repaired items are offered at reasonable prices through Fundació Deixalles at various locations around Mallorca."
Patrick Szubrin, Sales Manager at HAAS has been working with Gaspar Fullana Martí for over 15 years. Many projects all over Spain they have implemented. This connection is meaningful! The connection is therefore now more a friendship than purely business, they visited MAC Insular and commissioned the new TYRON 2500.
"I know MAC Insular as a company that stands behind a competent and dedicated team and always strives to develop further. The employees are well trained and the customers have access to a comprehensive service.

I am impressed by MAC Insular's social commitment to the reintegration of marginalised people. This project achieves several goals at once. Furniture and household appliances aren't simply thoughtlessly discarded, people are given the opportunity for vocational reintegration and other people can purchase products at an affordable price. "
Patrick Szubrin, Sales Director at HAAS
MAC Insular has access to a comprehensive service and maintenance package at TGMM/HAAS Recycling-Systems. At regular intervals, the machines are checked for operating status and components are exchanged at short notice if necessary. This ensures smooth operation and many years of use for the German twin-shaft shredders.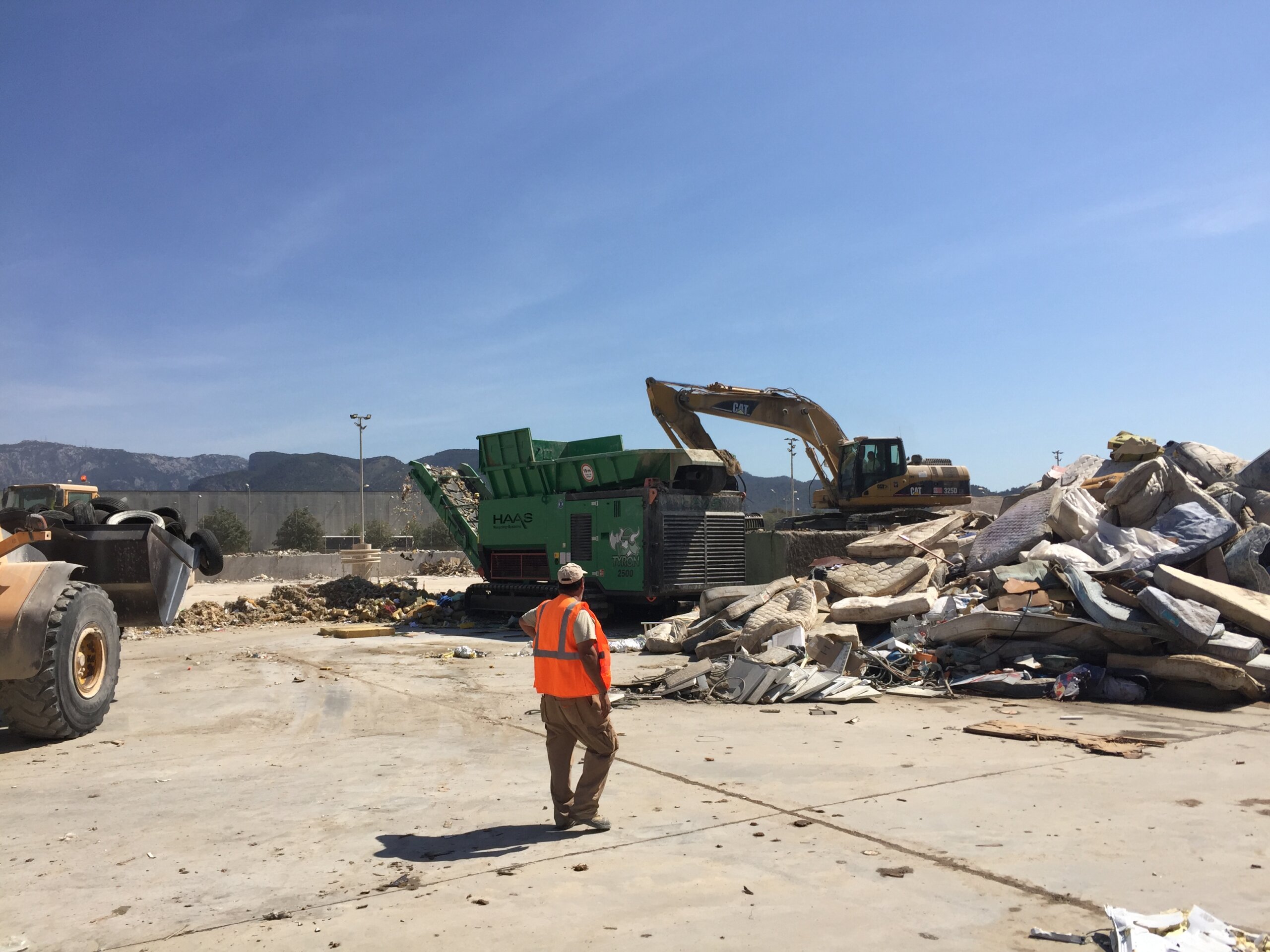 Foto HAAS TYRON 2500 pre-shredder, year of construction 2016