After a construction period of a well over one year, AVG Ressourcen, a subsidiary of AVG Cologne, commissioned a new HAAS waste wood processing plant at its location in Cologne-Niehl.
The expanded new plant is based on the HAAS processing line that has been in operation since October 2007 and covers a total area of approx. 15,000 m². In 2-shift operation the capacity is up to 120,000 tons of waste wood per year. The investment volume for the expansion of the plant and processing technology amounts to over 3 million euros.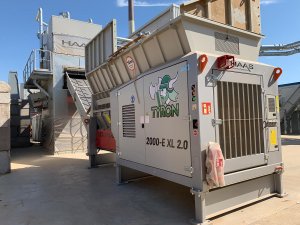 "This is a good investment for the future, in environmental as well as climate protection," explains Karl Georg Boje, Managing Director of AVG Resources. "The new waste wood processing plant is one of the most modern plants of this type in Germany and naturally meets all currently required environmental and emission standards."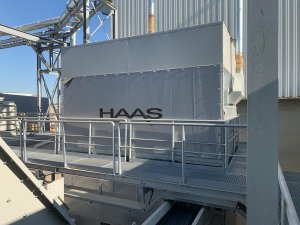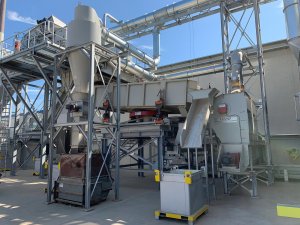 AVG Ressourcen attached great importance to the environmental technology equipment, especially for minimizing dust. Thus, the entire plant was equipped with the latest extraction technology. The wood dust extracted in the process is loaded dust-free in a container. The entire conveyor technology is enclosed. Spray mist cannons are installed in front of the individual storage boxes, which can create a "spray mist curtain" if required, in order to bind the dust. Loading of the lorries for transport is carried out in an enclosed loading bay, so that no dust emissions can escape from there either.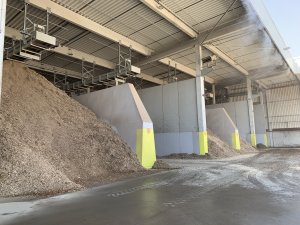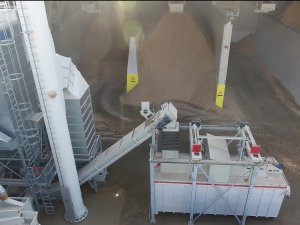 AVG Resources is also setting new standards in fire protection. Spray flood systems in all storage boxes, infrared monitoring of the shredding equipment and a spark extinguishing system in the area of the filter system ensure a high level of safety.
AVG Resources is the largest waste wood processor and recycler in the region. Approximately 90,000 tons per year have been accepted at the company's two sites to date. Managing director André Lotz sees further potential in the regional waste wood market, also in the future.
"Our aim is to recycle as much material as possible. To achieve this, high quality standards must be met. The new plant enables us to maintain these quality standards without any problems," he explains in detail.
For this purpose, mainly untreated waste wood is used, so-called A I wood. A II and A III wood is also processed in the plant. These are varnished and coated woods, which are primarily used as fuel for biomass power plants.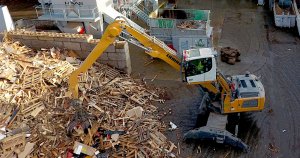 The waste wood comes mainly from the construction and demolition sector or it is packaging wood, sorting residues from the Cologne bulky waste collection and waste from the wood-processing industry. The chipboard industry and biomass power plants, in which waste wood is used to generate climate-neutral energy from the renewable energy source, are the purchasers of the wood chips produced. A small percentage ends up in the company's own local heating network, which supplies both its own site and some of its neighbours with heat.
"The AVG treatment plant is state-of-the-art and sets standards in terms of dust minimization and fire protection. We are very proud that we were able to support AVG in this ambitious project". A pleasure for Sascha Kloft, managing director of HAAS Recycling-Systems.
Background
Waste wood is 100% used in Germany. Every year around 8 million tonnes of waste wood are generated in Germany, which is 100 percent recycled. It is used in the timber industry to produce products for the construction and furniture industries, and in biomass power plants for generating energy and heat. This saves around 5.8 million tons of climate-impacting carbon dioxide.